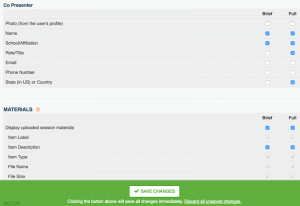 We're rolling out a few improvements to the way call settings are saved.

Instead of requiring you to scroll all the way down the page to get to the "Save Changes" button, we're displaying it as a sticky element at the bottom of the screen (right). That way, no matter where you are on the page, you'll have direct access to it.
The save-changes button will only appear on the screen if you have changes that need to be saved.
Changes are saved in the background, avoiding the need (and time it takes) to reload the page.
You'll now have an option to discard any unsaved changes and revert back to the previous settings.
The system will warn you if there are unsaved changes and you attempt to leave the page (either by clicking a link or reloading the page).
For now, we've only applied these changes to two settings pages: Dates and the Publishing Module. Once we're comfortable everything works OK, we'll start to apply the changes across all of the settings pages. (We've got some other big improvements in store for the call-management side of things, but I'll save those juicy details for another time.)